After 4 years of suffering and apologising to my clients about hostmonster's downtime, I am moving my sites out of there, and I am leaving  Hostmonster for good. In this article I will explain why that is, and why you should stay away from Hostmonster.
This it a professional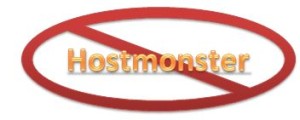 site, so I apologise for the language in the header, but most people look for 'hosting-company-name sucks' when they are looking for a review for a hosting company.
I have been using Hostmonster to host about 6-8 sites I own for the last 4 years (never for this site – spacebug has a dedicated account somewhere else)
Here are the reasons you should not consider Hostmonster as a hoster:
Low availability
Since day one my sites had more downtime in hostmonster then other hosting compenies I have worked with. There are some good weeks, but on average you get very low availability. You see it in downtime in the site, bounced incoming email, and flaky FTP connections.
Horrible performance
Sites run slowly on Hostmonster. This problem becomes worst with time (my guess is they overload the servers). This happens on plain HTML sites as well as PHP and MySQL driven sites.
Poor and unfriendly support
Contacting Hostmonster support is a waiting game, it takes forever for them to get back to you. what is worst is that when they do come back to you, they are never helpful.
Major security issues
This is not a joke – Hostmonster servers have been compromised several time. These have been a server-level attacks which affected multiple accounts. Personally speaking, it is a terrible feeling to have your site hacked into. The company required all accounts to change their passwords to strong password and two weeks later the attack happened again. If you do not want your site to be a place for virus distribution – stay away from hostmonster!
No communication of issues
They have never communicated any security/downtime/other (planed or otherwise) issues. They never admit it is something that they do wrong. When you tell then your server is down for the last 8 hours, they will say "it was done to improve future performance" or something like that.
Conclusion
I do not want to make any recommendation about other hosters, these things change from time to time. I have yet to find the perfect hosting company. But all the other companies I have worked with were, by far, much better.
Recommend Hostmonster only to your arch-enemy.